It's not always obvious where you need to go when trying to update plugins in a WordPress Multisite installation. Some plugins are enabled on a per-site basis, others are enabled across the entire Network. WPML – when Network Activated – doesn't give you any configuration at the Network Admin Dashboard level, only a WPML Network Setup page.
So how do you actually update WPML on a WordPress Multisite?
In your Network Admin Dashboard > Plugins > Installed Plugins you'll not be presented with any useful Update link:
Instead, you want to go to Network Admin Dashboard > Plugins > Add New > Commercial (tab)

On this page you will see your currently installed WPML plugins, as well as see a Check For Updates button:

If you have plugins that need to be updated, select them by clicking on the checkbox to the left of their name, then scroll down to the bottom of the page and click the Download button. You can also check the Activate after download checkbox if you are installing a new plugin (not just updating) and want to activate it immediately.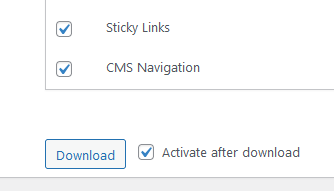 And that's it! Your WPML plugins are now up to date! No need to fuss around in the your Subsite Dashboard, hoping it'll detect a new version, etc.